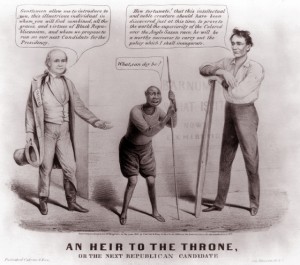 "An Heir to the Throne, or the Next Republican Candidate" satirizes the Republican Party's stand on slavery in the
1860 presidential election
.  Democrats attacked 
Abraham Lincoln
and the Republican Party for rejecting the expansion of slavery into new territories.  Louis Maurer, the artist of this 1860 Currier & Ives cartoon, depicted the ultimate allegiance between the Republicans and African-Americans, as
Horace Greeley
(on the left) introduced the black man in the center of the cartoon as the Republican Party's "next Candidate for the Presidency." Greeley, the editor of the New York
Tribune
, came out in favor of Lincoln during the May 1860 Democratic convention in Chicago and used his position in the press to advocate for Lincoln leading up to the election.  In the cartoon, Lincoln's response flouted any convention of race at the time, by declaring that his party's new candidate will "prove to the world the superiority of the Colored over the Anglo Saxon race." Though the caricature of Lincoln made what would have been, an outrageous statement on the hierarchy of the races, the subject of his assertion—the black man—was still labeled as a "creature." Maurer actually borrowed this image of a black man from
P.T. Barnum
's American Museum exhibit "What is it?" Barnum advertised the exhibit, which ran in New York in 1860, as the link between human beings and monkeys.  An
announcement
that ran in the March 1, 1860 edition of the New York
Tribune
attempted to draw in spectators with the attention-grabbing questions: "Is it a lower order of man? or is it a higher development of the monkey? or Is it both in combination?"  The question of race, and of slavery, was on the forefront of Americans' minds in 1860, adding to the relevance of Barnum's exhibit.  In addition, Charles Darwin published his ground-breaking scientific work,
On the Origin of Species by Means of Natural Selection: Or the Preservation of Favoured Races in the Struggle for Life
, only months before on
November 24, 1859
in London.