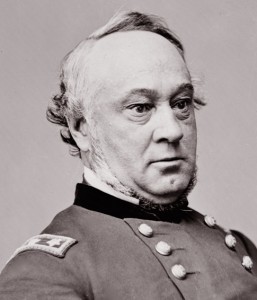 Corinth, Mississippi, founded in 1854, became an important site for Union and Confederate troops following the Battle of Shiloh in 1862. Gen. P.G.T. Beauregard of the Confederate army set his troops in Corinth in April 1862 until a much larger force led by Maj. Gen. Henry Halleck followed and began to encroach on the Confederate stronghold. On the evening of May 29, after sustaining Union bombardments, the Confederates set up several convincing tricks to mask their retreat and convey the arrival of reinforcements. They cheered when trains arrived and set up deceiving cannon-like log imitations called "quaker guns".
The actual Battle of Corinth did not take place until October 3 and October 4, 1862. Confederate forces led by Maj. Gen. Earl Van Dorn sought to return Corinth to Confederate control, for since the siege from five months before Union fortifications had strengthened in the small town. Though some Confederate soldiers did break the Union's barriers around the city, the approaching Confederates retreated from Corinth as Union forces followed them across Tennessee.
The siege and battle at Corinth illustrate important shifts in the early part of the Civil War. Corinth became a key battlefront in 1862 despite being developed less than a decade prior. The "fighting, occupation, and carnage," as noted by Timothy B. Smith in his article published by the Mississippi Historical Society,  that occurred in this small town show the true scale of the Civil War. Battles did not always take place on the battlefield. Several recent efforts have been made to recognize Corinth in the Civil War, including several landmarks within Corinth. Corinth's Crossroads Museum and the National Park Service's Corinth Interpretive Center commemorate the impact of the Civil War felt in the town. Teachers may find useful other photos of Corinth and the park taken by Michael Noirot as part of a photo contest for Corinth on his blog.
Manning Ferguson Force's From Fort Henry to Corinth provides a summary of the battle from a nineteenth-century perspective. For more modern scholarship on the siege and battle see the National Park Service's summaries and lessons of the conflict. Michael Ballard dedicates a chapter in Civil War Mississippi: A Guide to the Battle of Corinth and focuses on mistakes made by Van Dorn as the Confederate force sought to regain control in Corinth.