The map of the Shelling of Carlisle compiled by Leigh Oczkowski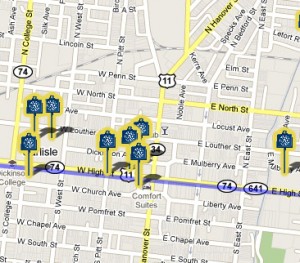 is a virtual tour of the Confederate shelling that occurred on July 1, 1863. The tour begins with the entrance of Major General Fitzhugh Lee into the town of Carlisle and ends at the burning of the Carlisle Barracks. We have created a resource for those visiting the area and those who want to discover the historical past of Carlisle. Each marker on the map gives a brief explanation of what happened in 1863 and shows the location in town today. Such locations include the Old Courthouse downtown, the First Presbyterian Church, buildings on Dickinson College's campus and the Carlisle Barracks. The purple line indicates the location of the Cumberland Valley Railroad that ran through Carlisle from 1837-1932.Visitors can use this map to explore  the town of Carlisle and view its sights.
The House Divided Research Engine can provide additional information on Carlisle from the Civil War.  House Divided is beginning to post maps on various Civil War topics which can be found on Google Maps.