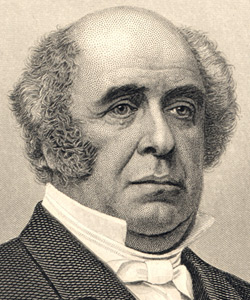 When Dickinson College President Jesse Peck arrived in Staunton, Virginia, for a conference in the spring of 1849, local authorities detained him as a result of a prank by Dickinson students. As the Richmond (VA) Examiner reported:
"some reprobate student…wrote a letter to the Physician of the Hospital [in Staunton], giving him a description of some individual who had left Carlisle, the seat of Dickinson College, in a state of mental derangement; and stating, furthermore, that it was more than probable that the said individual had betaken himself to Staunton, inasmuch as it was a sort of monomania with him to regard himself as the President of [Dickinson College],…. It is needles to add, that the description of the insane person coincided precisely with the appearance of the Rev. Doctor himself – and that it required the reiterated identifications of the ministers of the Conference around, to save him from confinement!"
Moncure Conway (Dickinson College Class of 1849), who later became a southern abolitionist, admitted that he was one of the student leaders involved with the prank. You can read the full story here.