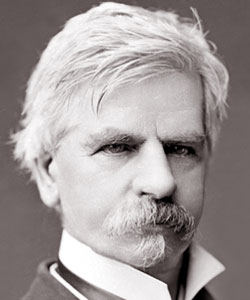 The
Siege of Port Hudson
began in late May 1863 with a series of battles, including
one on May 27
that was among the first major engagements that involved African American regiments. After General Franklin Gardner received reports that confirmed the Confederate
defeat at Vicksburg
, he surrendered his forces to General
Nathaniel P. Banks
on July 9, 1863.
Some estimates
put the total number of casualties during the siege at 12,208 (Union 5,000 / CSA 7,208). The National Park Service offers a
great lesson
plan about Port Hudson through their
Teaching with Historic Places program
. Teachers will find a short overview of the battle, several accounts from soldiers who participated in the battle, and links to several photographs. Louisiana State University's
Marshall Dunham photograph album
also has a
number of photographs
of Port Hudson. In addition,
several
battle
maps
are
available
from the Library of Congress. Port Hudson may not be that well known, but as General
Ulysses S. Grant
explained in his
Personal Memoirs
(1885-1886), the Union's victory on July 9 was a significant one. "From that day to the close of the rebellion the Mississippi River, from its source to its mouth, remained in the control of the National troops," as Grant noted. You can also find other documents about this battle in volume 26 of the
Official Records
. (A list of all the reports starts on
page 41
).