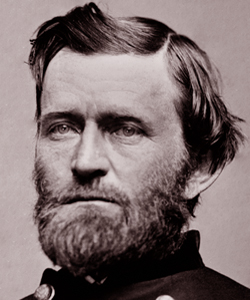 In
Ulysses S. Grant 's memoir
, fully available on
Google Books
, the brigadier general recollected that from February 11 to 16 1862, his men battled extreme winter conditions that alternated between "rain and snow, thawing and freezing" in addition to engaging the 21,000 Confederate troops entrenched at Fort Donelson . Historians Jack Hurst and Kendall Gott  both argue that the Union's capture of Fort Donelson was a crucial victory as it opened the western theater to Northern troops and supplies.  Hurst's book,
Men of Fire: Grant, Forrest, and the Campaign that Decided the Civil War
, and Gott's analysis,
Where the South Lost the War: An Analysis of the Fort Henry-Fort Donelson Campaign, February 1862
, are both available in limited preview on
Google Books
. A key resource for teachers and researchers is the
National Park Service's website
on Fort Donelson.  The website includes informational tools for creating
lesson plans
and
field trip
s  to Fort Donelson, and also features the
Fort Donelson National Cemetery's website
, which includes a
"Roll of Honor"
that lists the known Union soldiers that were reinterred in the cemetery. The National Park website also includes a special section that documents the evolution of
the role of African Americans at Fort Donelson
, which ranged from slave labor to employment by the U.S. Quartermaster, later reinforced by the Second Confiscation Act of July 1862.  Grant famously demanded "an unconditional and immediate surrender"  from the remaining Confederate general,
Simon B. Buckner
at Fort Donelson, which resulted in
12,000 to 15,000 prisoners of war
including
Flavel Clingan Barber
, Dickinson College Class of 1850.