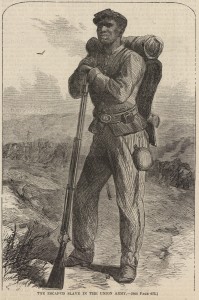 This short editorial published in Harper's Weekly describes two pictures of the same man – one shows him as a fugitive slave from Alabama and the other as a Union soldier. While at first he was a "poor fugitive oppressed with the weariness of two hundred long miles of dusty travel," Harper's Weekly explains that he enlisted in the USCT and became a "solder crowned with freedom and honor." You can read the full editorial here.
See the images described in this editorial in the Slideshow below –
Default Gallery Type Template
This is the default gallery type template, located in:
/var/www/housedivided/sites/wp-content/plugins/nextgen-gallery/products/photocrati_nextgen/modules/nextgen_gallery_display/templates/index.php.
If you're seeing this, it's because the gallery type you selected has not provided a template of it's own.