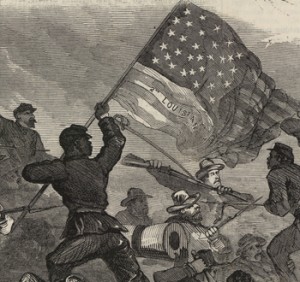 The Battle of Port Hudson on May 27, 1863 did not include USCT regiments organized in Pennsylvania, but it was among the first major engagements of the Civil War that involved African American regiments. The Union's efforts in late May 1863 failed to capture Port Hudson, Louisiana, which in turn led to a siege that ended on July 9 when the Confederates surrendered. Yet even though the initial attack had failed, the African American regiments' actions during that battle were singled out as particularly noteworthy. Union General Nathaniel P. Banks noted in his official report that "[the men's] conduct was heroric" and that "no troops could be more determined or more daring." In one day "they made…three charges upon the batteries of the enemy, suffering very heavy losses, and [held] their positions at nightfall with the other troops," as Banks explained. Frank Leslie's Illustrated Newspaper published Banks' report along with a poem written by a Philadelphia poet. Some northerners questioned whether USCT regiments would be effective against Confederate forces, but this battle and others provided irrefutable evidence as to how wrong their original assumptions had been. "We may be sure" that those regiments, "after Port Hudson, [will not] be again exposed to sneers or insult," as a Harper's Weekly editorial concluded.
See images related to this event in the Slideshow below –
Default Gallery Type Template
This is the default gallery type template, located in:
/var/www/housedivided/sites/wp-content/plugins/nextgen-gallery/products/photocrati_nextgen/modules/nextgen_gallery_display/templates/index.php.
If you're seeing this, it's because the gallery type you selected has not provided a template of it's own.