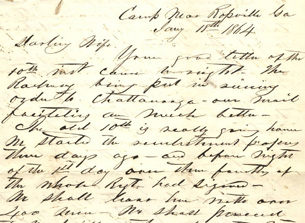 The
Noah Heart Papers
at Dominican University offer an interesting perspective on the Civil War from a Union officer. Noah, who served with the 10th Michigan Infantry, wrote a number of letters to his wife, Emily, between 1862 and 1865. His regiment took part in several campaigns, including General William T. Sherman's March to the Sea. While outside Atlanta in August 1864,
Noah described
one of the problems with his regiment's supply chain. The 10th Michigan Infantry "lines of communication..are of immense length already," and as Noah observed, "the farther we penetrate into the enemies country the more they become exposed." "[If [the Confederates] should cut off our Cracker and Bacon line," Noah concluded that "we would be in a pretty fix." This collection also includes Noah's
military records
, parts of
Noah's diary
, newspaper clippings related to the Hart family (such as
Noah's obituary
), and several
photographs
.