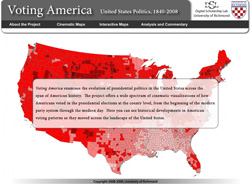 The University of Richmond Digital Scholarship Lab's "
Voting America
" is great resource on US Presidential elections. The site provides a series of maps on each election between 1840 and 2004  that show a variety of different information. For example,
the 1860 election map
includes layers that breakdown the popular vote by county and counties with small margins of victories (when a second place candidate lost by less than 10 percent of the vote). The site also organizes the maps by topic, such as
turnout
and
third party voting
. In addition, this interactive map allows you to select the election data that appears. Also, be sure to check out all of
the videos
– including
this one
with Professor Edward Ayers who discusses the elections before the Civil War.