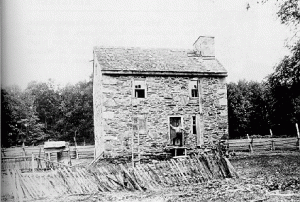 Ella Forbes, former professor of African American studies at Temple University and author of "But We Have No Country: The 1851 Christiana, Pennsylvania Resistance," has written
an article on the use of violence at the Christiana Resistance
. Forbes argues that the use of violence at Christiana is "...an indication of the alienation blacks felt in a nation which showed its hostility so openly towards them, a nation unwilling to protect them from white violence, a nation whose very laws promoted their disenfranchisement." Forbes' article in the Journal of Negro History makes its point clearly, and illustrates in great detail social and political alienation experienced by both enslaved and freed African Americans living in the antebellum United States. The article is worth reading for its insight alone, though the article presents an important teaching moment: Use and analysis source documents and materials. Forbes cites heavily William Parker's narrative in support of her argument. But there is question as to the authorship of the narrative, as
this website from Millersville University
explains. Parker, the only individual involved in the Christiana Resistance to have published an account, received help in compiling his memoir from an editor identified by only the initials "E. K." Since it is not known who this individual was, it is difficult to gauge the editor's mark on the work. Is Parker's narrative a reliable, factual work or did it suffer alteration by "E.K." for his own propagandistic purposes? Provides a great springboard for discussion about primary source materials, bias, and analysis of Forbes' article. The full bibliographic citation for Forbes' article is below. Bibliographic Citation: Forbes, Ella. "'By My Own Right Arm': Redemptive Violence and the 1851 Christiana, Pennsylvania Resistance."
Journal of Negro History
83, no. 3 (1998): 159-167.