Tag Archives:
Google Earth Tour

In 1849, Virginia slave Henry Brown (1815-???) escaped to freedom in such a way that he became an immutable subject of Underground Railroad lore. Brown was both a well-treated and skilled slave; however, he became virulently dissatisfied with slavery when his family was sold. Brown befriended Samuel Smith, a merchant, who observed that Brown's skill with tobacco could sustain him as a free man. Brown made up his mind to escape, and with assistance from a sympathetic free black, constructed a box with dimensions 3 feet by 2 feet by 2 feet. Brown secretly contacted the Philadelphia Anti-Slavery office, and enigmatically alluded to the pending arrival of a box that should be immediately opened. Brown then shipped himself, in the box, to the office. He arrived alive, and now, free, having endured a trek of 350 miles with 3 air holes and minimal provisions. His creative escape earned him the … Read the rest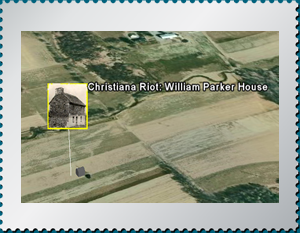 Tour of UGRR sites visited during the NEH Underground Railroad Workshops at Dickinson College
The Complete Landmarks of the Underground Railroad Tour (Google Earth File)
The Complete Landmarks of the Underground Railroad Tour with 3D models (Google Earth File – large file)… Read the rest

Google Earth Tour of the opening speeches and sites of the Lincoln-Douglas Debates in Illinois in 1858.
Lincoln Douglas Debates (Google Earth File)
Twelve Things You Might Not Know About
The Lincoln-Douglas Debates (Microsoft Word Document)
Learn more about these debates at the Lincoln-Douglas Debates Digital Classroom.… Read the rest